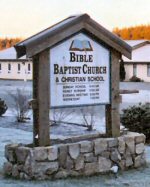 Our Ministries
The mission of Bible Baptist Church is a reflection of the "Great Commission" of the Lord Jesus Christ that has been incumbent upon every Bible-believing Baptist Church since the days of Christ and the apostles until the present.
"And Jesus came and spake unto them, saying, All power is given unto me in heaven and in earth. Go ye therefore, and teach all nations, baptizing them in the name of the Father, and of the Son, and of the Holy Ghost: Teaching them to observe all things whatsoever I have commanded you: and, lo, I am with you alway, even unto the end of the world. Amen" — Matthew 28:18-20.
This commandment may be summarized under three heads:
Preaching the Gospel to every creature — Mark 16:15.
Baptizing those who believe on Jesus Christ — Acts 2:41.
Teaching those added to the church through salvation, then baptism — Acts 2:42.
With this in mind, all of our Church's ministries are focused on fulfilling at least one aspect of the Commission. What follows is a categorized listing of the various ministries of Bible Baptist Church (in addition to the regular preaching meetings):
Regular Weekly Ministries:
LOCAL AREA OUTREACH MINISTRIES:
Jail Ministry
Sunday afternoon and weekday evening Bible Studies are conducted at the Island County Jail and the Oak Harbor Jail.
Rest Home Services:
Sunday afternoon worship services are conducted at CareAge in Coupeville. Weekly Bible Studies are conducted at Home Place Special Care Center in Oak Harbor.
Military Ministry
Saturday afternoon fellowship and Bible Study, a monthly meal provided after the morning service, and personal visitation to single members of the military stationed at NAS Whidbey Island.
Soul Winning and Visitation
A weekly outreach into the community involving both door-to-door visitation and follow-up calls to those who have visited Bible Baptist Church is conducted.
Retirement Community Bible Studies
Weekly Bible Studies are conducted at the Summer Hill Retirement Community and the Regency on Whidbey retirement center in Oak Harbor.
MEMBERSHIP MINISTRIES:
For children –
Christian School
Christian Day School for Learning to Read through High School levels using School of Tomorrow (ACE) curriculum. Learn More
Sunday School
Exciting Bible classes are provided for all ages from infants on up, beginning at 9:45 every Sunday morning.
Nursery
Loving care is provided in a well-equipped nursery for infants up to age two. Nursery service is provided during every regular meeting, and all special meetings.
Junior Church
This tremendous Sunday morning program geared to a child's level for five through ten-year-olds; conducted during the regular morning preaching meeting.
Toddlers Program
A structured program for children ages two through four during all scheduled Church meetings with singing, story time, games and activities.
Patch-the-Pirate Choral Club
Children ages six through twelve are invited to participate in this character building choral program, conducted during the school year on Wednesday evenings. The highlight of this ministry is the monthly presentation of a song and a skit during a Sunday evening preaching meeting.
For Youth –
Sunday School
Challenging, Bible-centered teaching for youth is provided every Sunday morning, beginning at 9:45.
Youth
Bible Baptist Church is "Committed to the Next Generation" and provides training, activities and service opportunities for young people ages 12 through 18 (or in high school).
For adults –
Sunday School
Two adult Bible classes are held during the Sunday School hour every Sunday morning — the "Builder's Class" for new believers and church members, and the "Auditorium Class" providing in-depth Bible study.
Book Store
A small bookstore located in the Church foyer is open during regular meeting times to provide quality Bibles, books and music at reasonable prices.
Choir
The choir provides special music for Church meetings and special programs throughout the year. It is open to teen and adult members.
Recording Ministry
Copies of all preaching and teaching messages are available on CD at a minimal cost.
Ushers
Friendly ushers greet people arriving for meetings, and provide direction and assistance for visitors.
Bible Training Institute
A three-year preacher-training program using curriculum written by our pastors and published here at Bible Baptist Church has been functioning for 31 years. Courses are taught on a modular basis, one week of the month for nine months of the year, and are designed to help prepare men for the ministry and to equip Church members for the Lordís service.
Monthly Ministries:
Ladies Bible Fellowship
A monthly Bible Study and fellowship time for ladies is held on a Monday evening during the fall through spring months. Practical teaching for marriage, motherhood, and service is given in an atmosphere of friendly fellowship.
Men's Breakfast Fellowship
A monthly breakfast and Bible Study for teens and men is held on a Saturday morning during the fall through spring months.
Extension Ministries:
Publications
Bible Baptist Church Publications produces and distributes discipleship materials, Bible Institute curriculum, and Bible Study and teaching materials to ministries across the United States of America and around the world. Learn More
Mindanao Baptist Outreach
Evangelist Wayne Walley and his wife, Donna, conduct the Church's Gospel ministry in the Philippine Islands, where they have planted several churches and continue to minister on the island of Mindanao. Learn More